Fri, 05/13/2011 - 17:17
Top 10 terraces in Paris
The word "terrace" in English can be defined a number of ways, such as:

terrace n. & v. 4 Brit. a A flight of wide shallow steps as for spectators at a sports ground. b (in pl.) the spectators occupying such steps. (Concise Oxford Dictionary, 9th edition)

Or, as it is more popularly defined:
ter·race n. c: A relatively level paved or planted area adjoining a building. (Merriam-Webster on-line dictionary)

In Paris, its meaning falls somewhere between the two definitions. Physically, it resembles the latter, but in spirit the former. Which is maybe why terrace sitting is such a beloved past-time. It allows Parisians to engage in their two favourite sports – people watching (spectator sport) and smoking (team sport) – while lounging in the sun and enjoying a lovely libation.

So, where are the best terraces in town? Well, it depends on what you're looking for…
Sophisticated and chic

Café Marly is oh so sophisticated and definitely chic. Situated in the Louvre museum, one is treated to a breathtaking view of the pyramids and swarms of tourists from the terrace.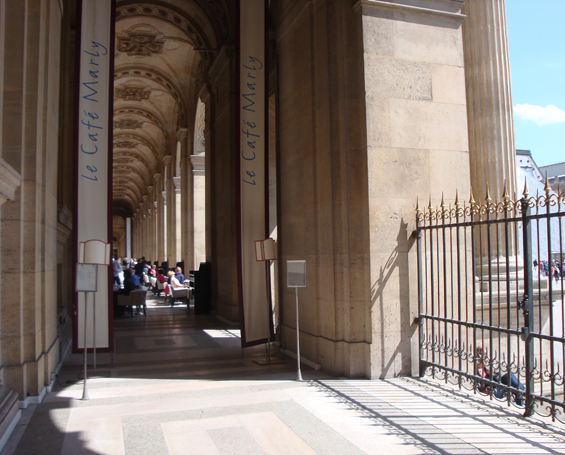 The Musée d'Art Moderne also has a stunning terrace, which overlooks the Seine onto the Eiffel Tower from its lovely perch on the Right Bank.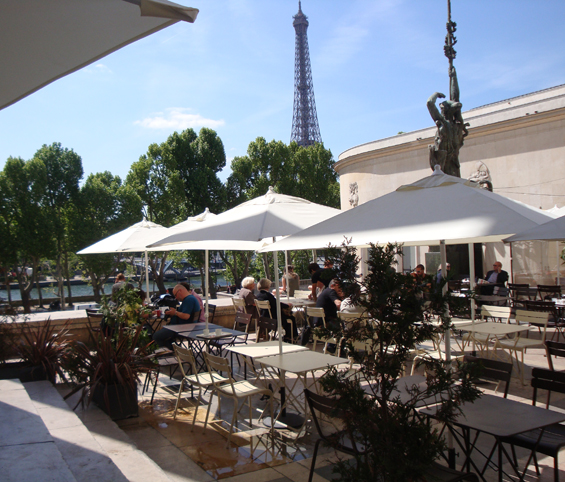 Stunning yet unpretentious…

La Bellevilloise has one of the most sun-soaked and generally laid-back terraces in town. It's a great place for an extended after-work drink with friends.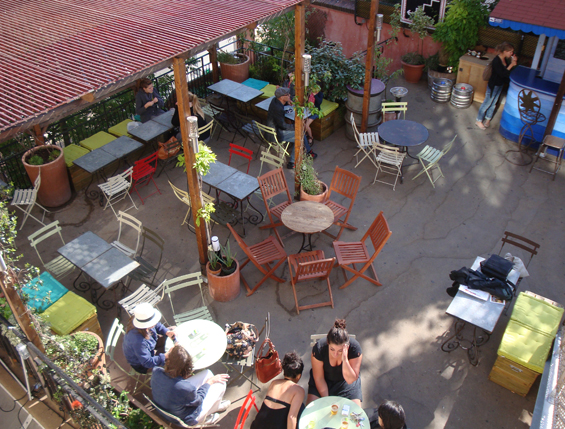 Behind the Jardin des Plantes on the Left Bank, one can find La Mosquée de Paris. Just beyond the arched doorway is a lovely garden terrace dripping with foliage and protected from the street's hustle and bustle by a sturdy wall. There, one can enjoy sweet pastries doused in honey, savory baked goods and mint tea.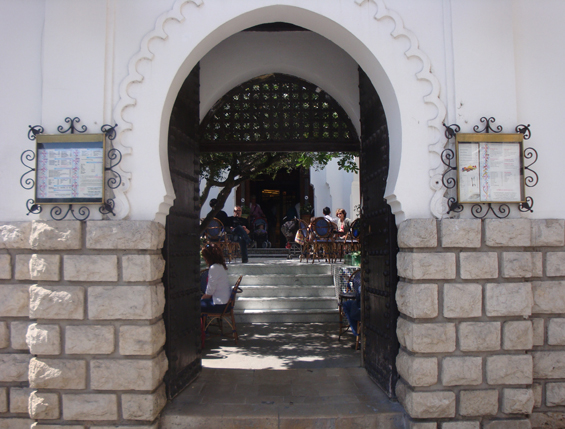 The Marais' La Chaise au Plafond café is also a darling place to park with a friend. Tucked away off the main drag at the entrance to a little dead-end street, the terrace is surrounded by flowers and greenery.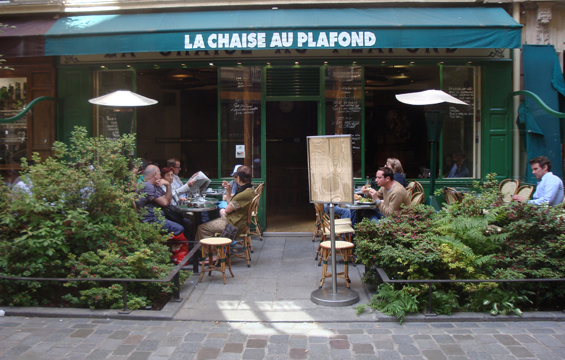 The Marché des Enfants Rouge is one of the best places to grab lunch if you're in the 3rd arrondissement. Hidden from the street by a façade, it's an open air market complete with various food stands and outdoor seating.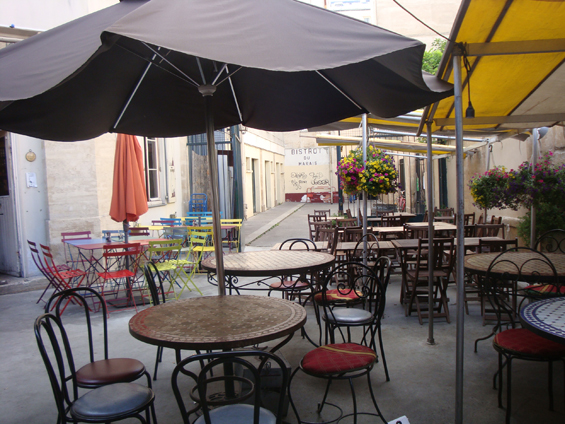 La Musée de la vie Romantique's terrace is exactly that – utterly romantic. Nestled in a former "maison particulière", or private residence, this terrace is dappled in sunlight and bordered by rose hedges. One feels almost as if they've escaped to a country garden in Normandy as they sip lemonade and lunch on savory cakes.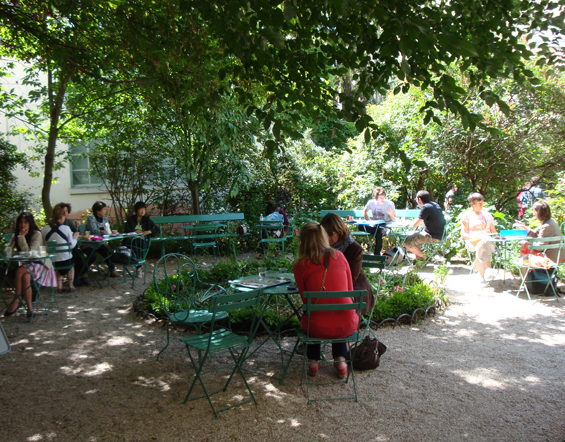 Located in the Buttes Chaumont, Le Pavillon du Lac is a slightly upscale restaurant whose terrace has a sweeping view of the park's lake. Since Rosa Bonheur's untimely demise into a 'bobo' (French for bourgeois-bohemian) hellhole, Le Pavillon is a pleasant alternative with no wait and all the same advantages.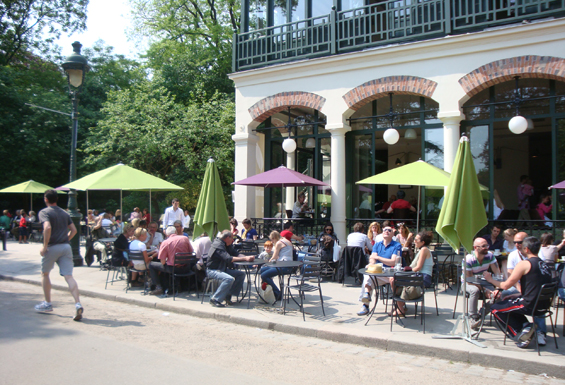 There's nothing like a good neighbourhood dive

At first glance, there's nothing special about Aux Folies. It's on a busy street, the chairs are made of green plastic, it's kind of grimy and the drinks are cheap. But it's amazing. It's the type of place one goes when they're looking for a familiar feeling, when they want to bump into friends or just kick back.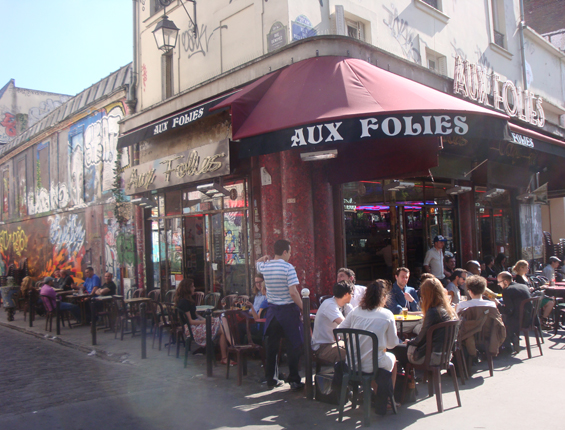 Café Cheri(e) is also a great dive-ish place to sit and enjoy the sun on an enormous street-side terrace in the sun.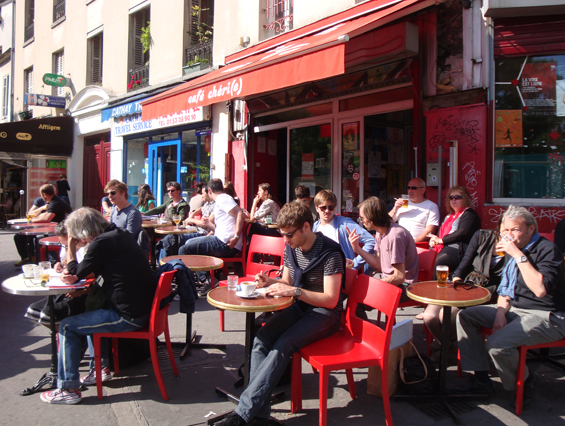 Comments or opinions expressed on this blog are those of the individual contributors only, and do not necessarily represent the views of FRANCE 24. The content on this blog is provided on an "as-is" basis. FRANCE 24 is not liable for any damages whatsoever arising out of the content or use of this blog.